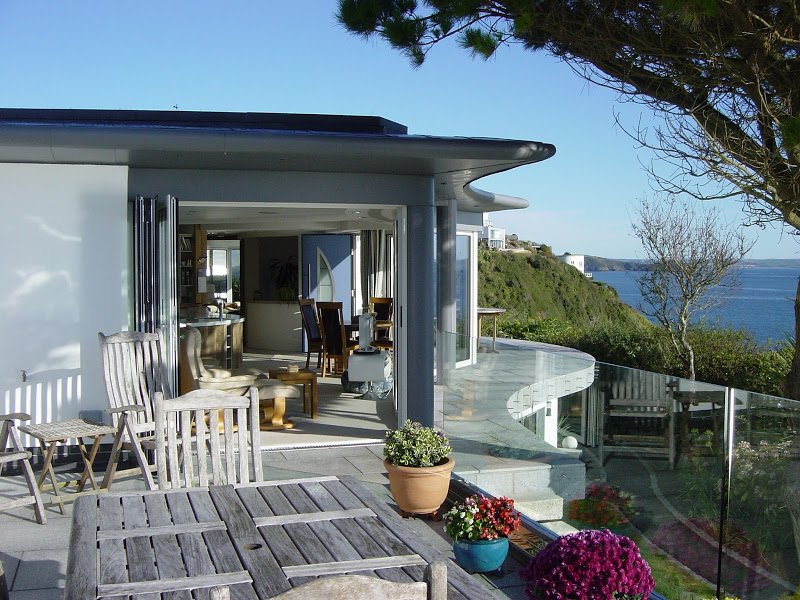 Type: Private Dwelling
Location: Portmellon, Cornwall
Status: Completed - 2012

The owners bought the plot then known as "Kerals" in 2003. The plot came with access to its own private beach, which is inaccessible to anyone other than via the sea.
Being a qualified architect, the owner sought to see if he could get planning to build a permanent dwelling on the site. It was always going to be a difficult task, as the site is in an Area of Outstanding Beauty and part of the Heritage Coast.
The other problem was the site's proximity to the cliff and coast, where there is a presumption against building houses unless it can be demonstrated that the site has a life of at least 100 years. This involved the commissioning of geological engineering professionals to undertake a study, which concluded that, subject to various stabilising techniques, the most draconian of which involved the placing of 1300 tonnes of rock armour at the cliff base to arrest any further potential coastal erosion, then the site was appropriate for the construction of a new dwelling.
We were selected to complete the construction and external works of The Wave House which started in January 2011.
The design which the owner created himself, was dependant on large areas of glass facing the sea views and terraces and the curvilinear style was what he wanted to achieve as part of his design ethos -based on the waves of the sea.